pinthis
It's that time of year again! I have been so excited to share a few changes regarding my mini packages this year. I have thought long and hard and this is a fun direction that gives my mini clients a little more than I have given before.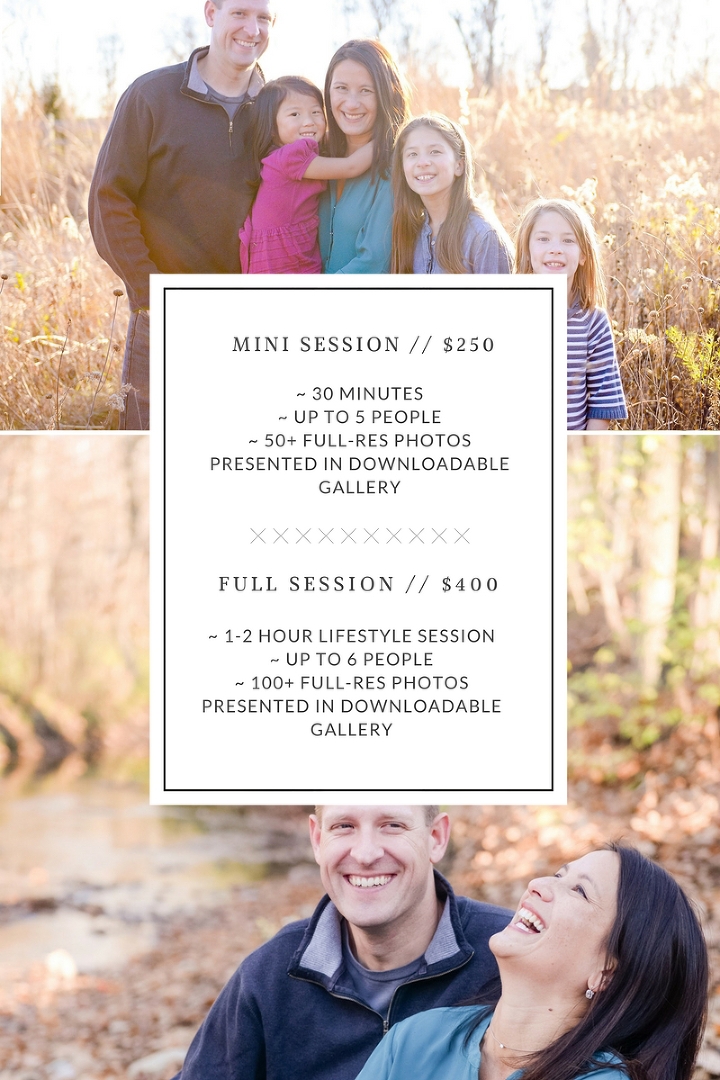 pinthis
Last year I offered mini sessions for $200, but you only received a choice of ten photos with the option of buying more. This year it's a little bit more and you receive at least 50. Why, might you ask? Trust me, I didn't make this decision lightly as I realize how much more I'm giving, even despite the cost difference. So here's the deal; I had them all edited before I presented the gallery for my clients to choose. They were done. Then when my clients would choose their photos, it nearly broke my heart to leave the rest behind. So I decided why not? They are done anyway and I adore my clients. It just made sense for me to go in this direction.
What's the difference between a Mini & a Full Session?
So why, you might be asking, would I book a full session when I can get so many with a mini session now? Great question. It comes down to time and style.
With a mini, we get down to business as we only have a half an hour together so our time is spent focusing on the major groupings and poses. These sessions are great for families looking to use their photos for holiday cards, gifts or a new portrait for their wall.
With a full session, we work together to plan a date and location(s). You'll have time for more outfits. You will get all the poses from a mini AND we have time to get comfortable and capture quite a bit more. More set ups and poses, but the real magic happens in those real, unscripted, in-between moments that tell more of a story about what life is for you right now. These moments that happen are my most favorite thing about what I do. I love it when the ease and comfort of time leads to those sweet cuddles and laughter. These sessions are also ideal for families with small children or the shy ones who sometimes need a little more time to get comfortable.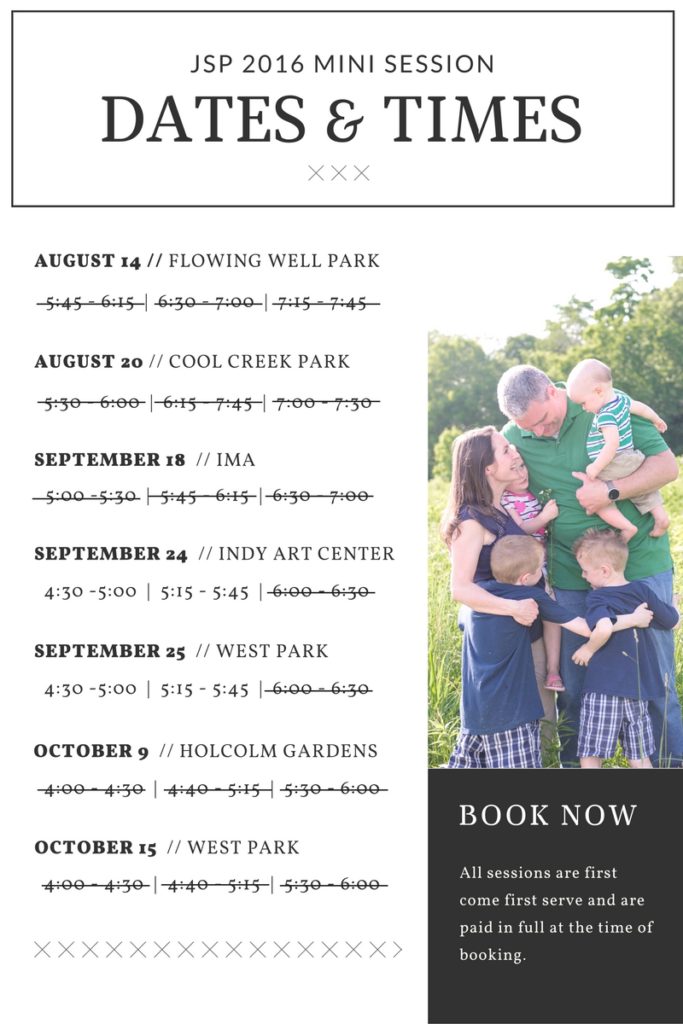 pinthis
  MINI SESSION FAQ
DO YOU OFFER ANY INCENTIVES FOR YOUR PAST CLIENTS? I do! I offer $50 off of each of my sessions to my past clients! I love taking care of my loyal ones. I get that there are so many photographers out there and it's nice to have different styles, but I do love it when my past clients get a little more comfortable each time we meet which makes for some fantastic sessions. Ya'll become a little like family!!!  
DO I GET TO CHOOSE MY LOCATION FOR MY MINI SHOOT? Mini session locations are already predetermined. If you have a specific location in mind, you might check out the full shoots and/or contact me and we can talk about it. 
DO YOU OFFER MINI SESSIONS FOR NEWBORN OR SENIORS? I do not offer mini sessions for maternity, birth, newborn or senior shoots. I keep these for just families or children sessions. Please contact me if you'd like more information on any other type of shoot. 
WHAT IF I CAN'T DO ANY OF THE TIMES PROVIDED? I offer several dates for this reason, but am so sorry if one of these dates does not work. I do, however, have several dates open for full sessions if you'd like to go that route. 
WHAT IF I CAN'T MAKE MY SESSION? Because of the high demand of the sessions, I ask that you do the best that you can to make it. I get it that kids get sick and life happens, so call me right away and we'll see what we can do. There will be no refunds issued to no-shows, so don't miss!!! That would make us both sad. 
WHAT IF THE WEATHER IS BAD? I will have the final call the day before the session if I think the weather will not cooperate with us. I consider heavy rain or ice bad weather, but will most likely not postpone sessions due to cold weather or overcast skies. If we do have to postpone, we will work together to choose a date that works for both of us. Please know that we may not be able to use the original location. 
WHEN CAN I EXPECT MY PHOTOS? You will receive your photos within 4-5 weeks. I'd love to get them to you earlier, but the fall is my busiest time of the year!! 
WHAT CAN I EXPECT MY SESSION TO BE LIKE? When your session begins, be dressed and ready to go so that we get started right away and dive right into it. My focus is family photos, sibling photos,  and individual photos of each kiddo. I usually just feel out the kids to see which I will do first, but make it my goal to get each of these done. If we still have time I like to do a photo of mom and dad together, parents separately with each child, a couple more poses of the family together and the kids, or any other idea that you may have. I'm pretty laid back and recognize the need to follow the child's needs as we go. I love creating laughter and sometimes that means I get a little goofy. Be warned. 
WHAT IS A DOWNLOADABLE GALLERY? You will receive all of your photos in an online gallery called PASS. You can view everything and can download your photos straight to your computer. You will not receive any thumb drives or discs as you have access to everything via the web. You may also share this gallery with friends and family and they may download photos too. This will be available to you for ten (yes, I said ten) years. There are also high quality products and prints available to order via your gallery as well. 
WHAT IF I HAVE MORE PEOPLE THAN WHAT THE SESSION ALLOWS? Because of such a limited amount of time in mini sessions, I ask that there are only up to five people. This ensures that we can get everything done in that amount of time. If you have more people, I suggest looking at the full session to give us the time we need. If you're really gunning for a mini session, let me know and we can work out some extra time for additional cost. If you are booking a full session and have more than six people, each additional person is $25. 
WHAT IF I'M LATE TO MY SESSION? Because my mini sessions are back to back, I ask that you please arrive early to make sure that you are on time to your session. If you are late, I will not add extra time to the end of your session so that I'm on time with my next client. 
WHAT DO I WEAR? During mini sessions, I ask that there are no outfit changes as that will take time away from our time shooting together. I LOVE to help my clients style their wardrobe for their sessions, so email me with your questions and ideas. I may even have you text me your ideas and options and will help you piece it together. 
WILL THERE BE PROPS OR STYLING AT MY SESSION? I don't offer any extra props for these particular sessions. We use whatever is on site (if there are benches, walls, etc.). If there are small items or blankets that you'd like to bring, please let me know ahead of time so that we can make sure we have time and that it works for us. 
DO YOU OFFER ADDITIONAL PRODUCTS OR PRINTING? Yes I do!! You will have your files, so you may print or order on your own. There are amazing companies that you can do this yourself (I recommend mpix.com for great prints). Because you can do all this yourself, I offer professional, higher quality products that you cannot access as a consumer. I've done years of research to find what I consider the very best out there. 
DO YOU WORK WITH FAMILIES OF CHILDREN WITH SPECIAL NEEDS? I LOVE working with these families. A little known fact about myself is that I spent seven years working with young children with Autism. I actually started my photography business in 2007 during this time and worked with dozens of families. I get that it takes a whole lot of patience and understanding and these are virtues that I pride myself in when working with these families. I recommend my full sessions so that we can spend some extra time together to get a little more comfortable. Please let me know ahead of time (if you're comfortable with that) if you have kiddos with special needs and we can prepare a little bit more together. 
Please email me to book your session or for any questions you may have!!!! I can't wait to photograph your family!!!